I got her at Christmas. She's extremely energetic and knows how to get what she wants.



Yes, she has one blue eye and one brown eye.



This is her at 3 months. She's so adorable it's crazy.



At first, I had to take her everywhere with me. She found a cozy spot on Terence's stairs.



Did I mention she's mischievious? This is what she did to two ivy plants.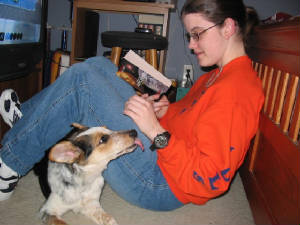 She won't let me out of her sight when I'm home. I can't even read a book in peace.
Many Bothans died to bring us this information.